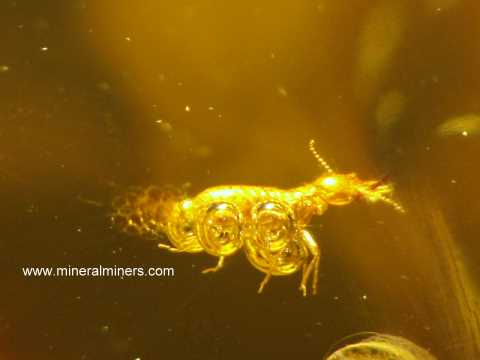 Natural Copal Amber with Insects Trapped Inside
---
Above are displayed our copal amber specimens from Colombia.
Further down this page you will see our copal amber specimens from Madagascar.

---

This is the end of our Genuine Amber Specimens virtual gallery page.

See also our page displaying Natural Baltic Amber Jewelry.

To see more amber photos, just select another item category from the table below. To see photos of another mineral variety, select any item category link in our Mineral Inventory & Factsheet Index.



Amber is the fossilized resin of ancient trees. Copal is tree resin that is younger than amber. Copal is in an intermediate stage of polymerization and hardening, somewhere between fresh tree resins and amber. Natural copal specimens have been age dated from 50 years to 1.6 million years old.

Would you like us to inform you when we add on this page more of these 1,5000,000 year old natural copal amber specimens with insect inclusions?
We have over 150 tons of gem & mineral items in stock at our mineral warehouses, so be sure to let us know if you have any special requests. Please contact our webmaster or our 'site' geologist with any questions or comments.

Go up to the

top

of this page displaying genuine copal amber specimens with insect inclusions
---
Last Updated: September 12, 2023
© Copyright 1998, 1999, 2000, 2001, 2002, 2003, 2004, 2005, 2006, 2007, 2008, 2009, 2010, 2011, 2012, 2013, 2014, 2015, 2016, 2017, 2018, 2019, 2020, 2021, 2022, 2023 Gem & Mineral Miners, Inc.® All Rights Reserved.