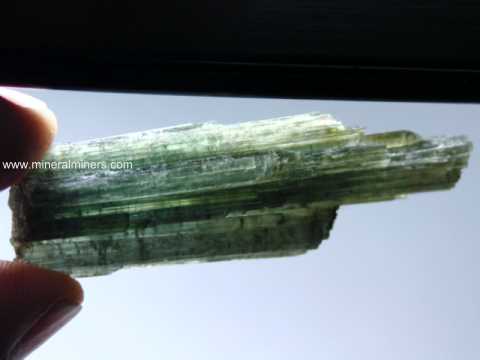 Tourmaline Crystals and Tourmaline Mineral Specimens (natural color)

Natural
Tourmaline Crystals
and Tourmaline Mineral Specimens in our Virtual Gallery
---
The
mineralminers.com
®
Virtual Gallery - Collector Quality Tourmaline Crystals
At
Miners'
Prices!
TM
Tourmaline Crystals of All Tourmaline Varieties
This page will take a little longer to load since it contains all of our on-line selections of tourmaline crystals and matrix mineral specimens for all of the toumaline natural color varieties including; black tourmaline crystals (schorl), green tourmaline crystals, blue tourmaline crystals (indicolite), pink-orange-purple-red tourmaline crystals (rubellite), watermelon tourmaline crystals, and bi-color & multi-color tourmaline crystals.
NOTE: If the images on this page do not load properly (or if they take too long to load!), then you should visit our Mineral Specimens Alphabetical Index where there are links to separate pages for each of the tourmaline mineral varieties. The images of our tourmaline mineral specimens on these specific mineral variety pages will load much faster.
Simply "click" on any Tourmaline Crystal image below to enlarge it.
Our tourmaline mineral specimens are sold and replaced on a daily basis, so do come back often!
---
---
---
---
---
---
---
---
---
---
---
---
---
---
---
---
---
---
---
---
---
---
---
---
---
---
---
---
---
---
---
---
---
---
---
---
---
Item
: tbkm227x
we have these black tourmaline pieces available in assorted sizes from 1" to 2.5" long
Handcrafted from natural black tourmaline mined in Brazil

These polished black tourmaline pieces were tumble polished from 100%
natural
black tourmaline crystals that were mined in Minas Gerais, Brazil. These rounded & polished pieces of black tourmaline are very popular for metaphysical purposes, and they fit comfortably in your hand, pocket, or purse. These black tourmaline polished pieces are very inexpensive, and they also are very convenient for placing around computer work stations, etc.. as protection against electro-magnetic energies. We have these large size tumbled black tourmaline pieces available at specially discounted volume prices. Please see below for prices, quantities, and ordering.
---
Item: tbkm186x
These genuine black tourmaline crystals were mined in Brazil
These naturally terminated black tourmaline crystals have trigonal prismatic form and natural terminations on each end (known as bi-terminated or double-terminated). The terminations of these small black tourmalines are in good condition overall, with some abrasions. Their small size makes them perfect for metaphysical uses and for feng shui, and they also are very nice as mineral specimens. Each of these black tourmaline crystals has all natural prismatic faces and terminations. We have 3 sizes of these small double-terminated black tourmaline crystals available: 1 inch, 1.25 inches, and 1.5 inches (sizes are approximate). Please see below to order.

---
Item: tbkm158x
These naturally terminated black tourmaline crystals were mined in Brazil. Their small size makes them perfect for metaphysical uses, and they also are very nice as natural black tourmaline mineral specimens. Each crystal has natural prismatic faces and some terminations. We have two sizes of these small black tourmaline crystals available at specially discounted volume prices: 1.1" diameter, and 1.5" diameter (sizes are approximate). Please see below to order.

---
---
---
Item: tblm135x
available in several sizes - please see below
Mined in Pakistan
These natural indicolite tourmaline specimens have medium greenish-blue natural color with rounded trigonal form. These small blue-green tourmalines could be used for cabbing or carving, and they also make nice specimens of natural blue-green tourmaline just as they are. We have several small sizes available, please see below to order.

---
---
---
---
---
---
---
---
---
---
---
---
---
---
---
---
---
---
---
Item
: tgrm241x
these natural color green tourmaline crystals are available in several sizes (please see below)
each of these genuine green tourmaline crystals was mined at Itinga, Brazil

These naturally terminated dark green tourmaline crystals have
100% natural color
! They appear almost black, however they actually have a beautiful deep green body color with dark brown naturally terminated tips when placed against a light as shown. They are ideal for making cabochon gems or lightly included faceted gems, and for small carvings as well. They also make very nice
natural
color green tourmaline specimens for mineral collections and metaphysical use. We have them available in several approximate sizes.
Please see below to place an order.
---
---
---
---
---
---
---
---
---
---
---
---
---
---
---
---
---
---
---
---
---
---
---
---
---
---
---
---
---
---
---
---
---
---
---
---
---
---
---
---
---
---
---
---
---
---
---
---
---
---
---
---
---
---
---
---
---
---
---
---
---
---
---
---
---
---
---
---
---
---
---
---
---
---
---
Our Tourmaline Crystals are all 100% Natural Tourmaline!
Bi-Color Tourmaline Crystals
Blue Tourmaline Crystals
Indicolite Tourmaline Crystals
Pink Tourmaline Crystals
Rubellite Tourmaline Crystals
Watermelon Tourmaline Crystals
We have been mining for aquamarine crystals, citrine, kunzite, topaz, tourmaline and other gems for more than 25 years, and we have a very large variety of natural crystals available in many different minerals, including natural color kunzite crystals and our natural color blue kyanite crystals.
See the links below for a selection of superior quality natural crystals.
To see more tourmaline photos, just select another item category (such as Tourmaline Gemstones or Tourmaline Jewelry) from the table below.
To see photos of another mineral variety, select any item category link in our Mineral Inventory & Factsheet Index.


Tourmaline Crystals
Would you like us to inform you when we add more natural tourmaline crystals and matrix mineral specimens on this page?
We have over a very large inventory of natural tourmaline crystals in stock at our mineral warehouses as well as tourmaline jewelry, so be sure to let us know if you have a tourmaline crystals special request. Please contact our webmaster, regarding tourmaline crystals or our 'site' geologist with any questions or comments.
Go up to the top of this page displaying natural
tourmaline crystals
and tourmaline mineral specimens:
---
Last Updated: October 29, 2016
© Copyright 1998-2016 Gem & Mineral Miners, Inc.® All Rights Reserved.