---

This is the end of our Green Aventurine Quartz Jewelry virtual gallery page.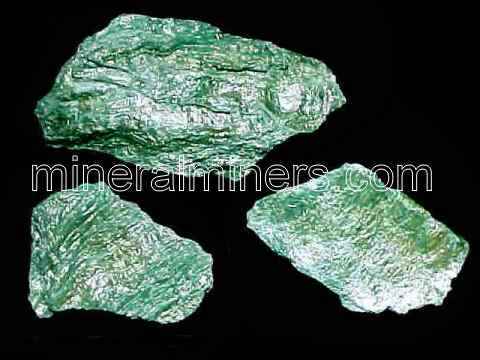 Tiny microscopic grains of natural color green fuchsite mica can occur naturally embedded within colorless gray quartzite, giving a beautiful green color and sparkly brilliance to the quartzite that is completely natural! This material is known as green aventurine quartz.
See also our page displaying natural fuchsite mineral specimens.
We also have natural color blue aventurine quartz rough with tiny dumortierite grains yielding the beautiful blue colors and patterns. See our natural blue aventurine lapidary rough pieces weighing up to 300 pounds each!
To see more green aventurine photos, just select another item category from the table below. To see photos of another mineral variety, select any item category link in our Mineral Inventory & Factsheet Index.


Would you like us to inform you when we add more natural green aventurine jewelry pendants, rings, bead necklaces and sterling silver bracelets on this page?
We do have additional inventory of natural green aventurine jewelry items in stock, so be sure to let us know if you have any genuine green aventurine jewelry special requests. Please contact our webmaster or our 'site' geologist with any questions or comments.
Go up to the
top
of this natural green aventurine jewelry page
---
Last Updated: May 8, 2019
© Copyright 1998-2019 Gem & Mineral Miners, Inc.® All Rights Reserved.