---
mineralminers.com
- Collector Quality Mineral Spheres and Eggs
At
Miners'
Prices!
TM
Try our
satisfaction guarantee
- compare our mineral sphere prices and our superior quality.
Mineral Spheres, Mineral Eggs and Crystal Balls
3.25 pound Natural Purple Sapphire Sphere!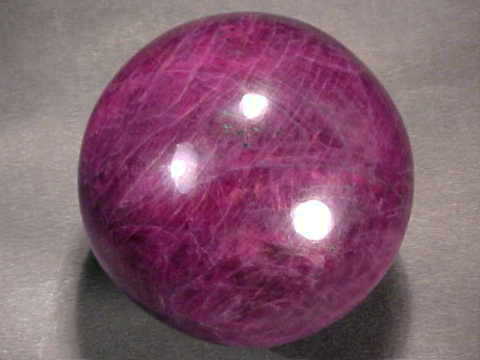 Click on the image at left to enter directly into our Virtual Gallery of mineral spheres and eggs for all minerals, complete with images, descriptions and secure SSL on-line ordering.
This page will take much longer to finish loading as it contains all of our on-line selection of mineral spheres and eggs for all minerals!
These are sold and replaced on a daily basis, so do come back often!

We have collectable mineral spheres in stock for each of the following natural materials:
---
To see our mineral spheres and eggs for a particular mineral variety, you can also visit our Mineral Inventory & Factsheet Index. This index is an alphabetical list containing every mineral variety in our on-line inventory, with links to images of our available mineral specimens, crystals, gems, jewelry, spheres, eggs and crystal balls, lapidary and facet rough, and natural gift items for each mineral listed in this index - all with secure SSL on-line ordering. There also are links to information pages on the different minerals giving their physical properties and discussing their occurance, diagnostic features, uses, history and metaphysical properties.

Would you like us to inform you when we add more mineral spheres and eggs to our Virtual Gallery? We have a very large inventory at our mineral warehouses, so let us know if you have a special request. Please contact our webmaster or our 'site' geologist with any questions or comments.

See also our pages on crystals, gemstones, mineral specimens, and our large selection of natural gemstone jewelry designs including earrings, bracelets, 14k gold earrings, necklaces, and rings. We have many different polished crystals, and for lapidary enthusiasts we have superior grade facet rough and lapidary rough. See our handcrafted mineral gifts, and our spectacular decorator minerals and rare collector crystals. We also have a page with metaphysical and new age information.
---
Last Updated: April 19, 2018
© Copyright 1998-2018 Gem & Mineral Miners, Inc.® All Rights Reserved.