---
Our Padparadscha Gemstones are all genuine sapphires!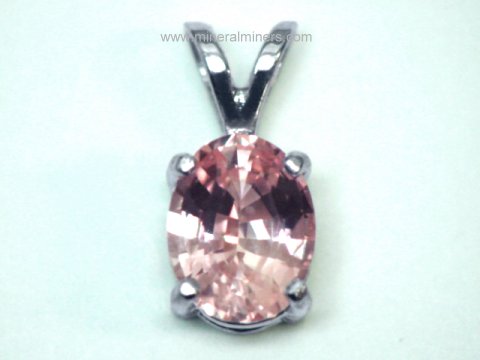 Be sure to see our natural Padparadscha Jewelry.
Padparadscha is a rare color variety of the mineral corundum (Al2O3). The color of padparadscha sapphire is from both iron and chromium impurities substituting for occasional aluminum ions in the corundum crystal structure.
The term padparadscha came originally from the ancient sanskrit word "padmaraga" which was the name used for the pinkish-orange to orangy-pink color of the lotus flower in Ceylon (Sri Lanka).
Certified natural color padparadscha sapphires are extremely rare and very highly prized.
We also have genuine Sapphire Gemstones available in all of the naturally occuring colors of sapphire.
Follow the links below to see more genuine sapphire gemstones.
We offer a very large variety of natural gemstones.
Follow the links below to see more genuine Sapphire Gemstones.
See also our pages displaying black star sapphire necklaces, black star sapphire rings, and our selection of black star sapphire pendants.
Information about genuine sapphire (corundum) and its history, physical properties, chemistry, occurance, and metaphysical uses is displayed on our sapphire information page.

To see more sapphire, padparadscha or ruby photos, just select any link shown below. To see photos of another mineral variety, select any item category link in our Mineral Inventory & Factsheet Index.

Natural Sapphire Varieties & Products (including Padparadsha) In Our Store
(Natural Corundums)
---
---
Padparadscha Sapphire Gemstones
Would you like us to inform you when we add more natural color padparadscha gemstones on this page?
We have over 150 tons of gem & mineral items in stock at our mineral warehouses, so be sure to let us know if you have any special requests.
Please contact our webmaster or our 'site' geologist with any questions or comments.
---
Last Updated: May 5th, 2023
© Copyright
1998-2023 Gem & Mineral Miners, Inc.
®
All Rights Reserved.