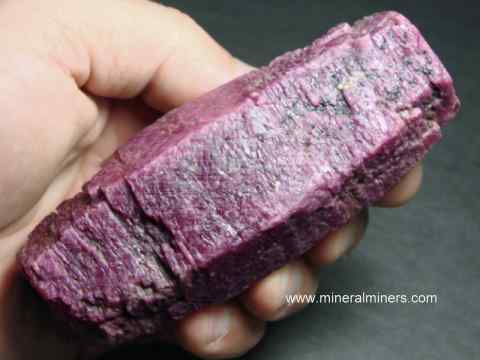 Natural Ruby: Crystals, Carvings and Ruby in Matrix Mineral Specimens

Genuine
Ruby Products
and other
Mineral Specimen
Varieties in our Virtual Gallery
---
The
mineralminers.com
®
Virtual Gallery - Collector Quality
Ruby
Crystals
At
Miners'
Prices!
TM
Ruby Crystals, Carvings, and Ruby in Matrix Mineral Specimens
Try our Genuine Ruby Crystals
Satisfaction Guarantee
- compare our
ruby mineral specimen
prices and our superior quality.
Click on any natural ruby crystal, ruby carving, or ruby mineral specimen image to enlarge.
---
---
---
---
We offer only 100% natural Ruby Mineral Specimens & Ruby Crystals!
Red corundum has been popularly known as ruby for thousands of years.
See our page displaying genuine ruby gemstones.
We also offer natural untreated blue sapphire crystals, and a variety of shapes, sizes and qualities of natural blue sapphire mineral specimens.
We stock natural color sapphire specimens & crystals in other colors including pink sapphire crystals and a range of sizes and qualities of natural color purple sapphire crystals!
See our selection of star sapphire crystals with polished ends to show their natural six ray stars!
See our genuine Ruby Crystal jewelry.
Be sure to see our pages displaying genuine ruby rings and ruby necklaces.
Our handcrafted selection of 14k gold ruby earrings is available in leverbacks and stud earrings.
We have been mining for aquamarine, citrine, kunzite, topaz, tourmaline and other gems for more than 30 years, and we have a very large variety of natural mineral specimens available for these and other minerals including peridot mineral specimens, amethyst mineral specimens, and quartz mineral specimens of all sizes including large decorator specimens.
See the links below for a selection of superior quality natural mineral specimens.