---
Our Black Tourmaline Crystals and Black Tourmaline in Matrix Mineral Specimens are all 100% natural - just as they were found inside the earth!
Would you like us to
inform you
when we add more natural black tourmaline mineral specimens?
See also our page displaying natural pink tourmaline crystals, our natural green tourmaline crystals, or simply see our page displaying natural tourmaline crystals of all colors!
We have a large variety of green tourmaline crystals in pegmatite matrix, including some tourmalines with gem grade transparency. We also have a large selection of natural pink kunzite crystals and natural yellow kunzite crystals, natural aquamarine crystals, and natural blue kyanite crystals & black kyanite crystals. We do have a very large selection of natural black tourmaline jewelry designs, as well as our pink tourmaline gemstones and sunset tourmaline earrings.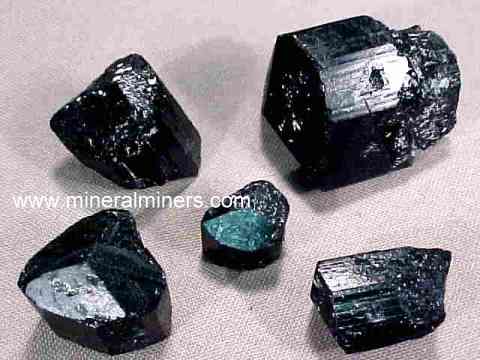 See our page displaying only black tourmaline products with many different kinds of black tourmaline specimens.
We have a variety of genuine black tourmaline products available including handcrafted jewelry items, black tourmaline spheres, and also black tourmaline mineral specimens & crystals.
Be sure to see our large black tourmaline decorator mineral specimens with black tourmaline crystals embedded in quartz matrix!
To see more black tourmaline photos, just select another link below.
To see photos of another mineral variety, see our Mineral Inventory & Factsheet Index.
We also have pages displaying natural quartz crystals, natural blue kyanite specimens, and our natural kunzite specimens.
Black Tourmaline Mineral Specimens
We have additional inventory of naturally terminated black tourmaline specimens and black tourmalines in matrix. Most of our black tourmalines formed in pegmatite dikes, although we do have some specimens of naturally terminated black tourmaline crystals that crystallized under metamorphic conditions.
See also our natural crystal pages displaying genuine quartz crystal mineral specimens, kyanite crystal in matrix & kunzite specimens that were all mined in Brazil. See also our handcrafted black tourmaline jewelry.
We have been mining for aquamarine, citrine, kunzite, topaz, black tourmaline, tourmaline gemstones and other gems for more than 25 years, and we have a very large variety of natural mineral specimens available in many different minerals.
We have natural color tourmaline specimens available in each of the tourmaline varieties including rubellite tourmaline mineral specimens, blue tourmaline crystals, and a large selection of all natural color green tourmaline mineral specimens!
We also have some amazing multi-color tourmaline specimens!
We have naturally terminated mineral specimens available in a very large variety of minerals including large pegmatite matrix mineral specimens.
See our page with links to natural crystals and mineral specimens of all mineral varieties! See also our page with links to all of our polished crystals.
We specialize in natural mineral specimens. See the links below for a selection of superior quality natural mineral specimens.