---
---
---
---
Item
: tbkj233x
These tourmaline bead bracelets are available with 2 different sizes of tourmaline beads (please see below)
Handcrafted from natural tourmaline crystals mined in Brazil

These genuine tourmaline bead bracelets are strung with natural tourmaline beads on an elastic band fitting all wrist sizes up to size 7 1/2. Most of these genuine tourmaline beads are so dark that they are actually black tourmalines, while a few are a very dark green or dark brown. These are all untreated natural color tourmaline beads with no dyes, no fillers, and no epoxies! They are 100%
natural
tourmaline beads, and when examined closely they show natural pits & cracks. See a close-up photo of these
black tourmaline beads
with occasional flat spots on their surfaces, and there are occasional small inclusions of other minerals within the tourmaline. The beads in these genuine tourmaline bracelets were hand-ground & polished from natural tourmalines mined in Brazil.
We have these genuine tourmaline bead bracelets available in two approximate bead diameter sizes, please see below to order.
---
Item
: tbkj210x
these black tourmaline bracelets are available with 2 sizes of tourmaline crystals (please see below)

These genuine black tourmaline bracelets are strung with completely natural black tourmalines on an elastic band fitting all wrist sizes up to size 8. Some of the black tourmalines are small crystal sections and others are naturally terminated crystals (all have completely natural unpolished surfaces). Many of these small black tourmaline crystals are bi-terminated! These black tourmaline pieces and crystals are in mostly good condition with some broken surfaces. They were mined in Brazil.
We have these genuine black tourmaline bracelets available in two approximate sizes, please see below to order.
---
---
---
Item
: tbkj243x
Each of these polished black tourmaline crystal pendants is set with a handcrafted 925 sterling silver bezel cap. We have them available with crystal sizes measuring approximately 1.1 inches long for $18.95 each (item tbkj243a), and 1.3 inch long crystals for $22.95 each (item tbkj243i), and an extra large size with 1.5 inch long crystals for $26.95 each (item tbkj243t).
They are sold individually (please see below).

---
---
---
---
---
---
---
---
---
---
Our Black Tourmalines are completely Natural - they have not been heated or treated in any way!
Black Tourmaline
Black Tourmaline is naturally pyroelectric, which means that a black tourmaline can produce an electrical charge when it is subjected to a change in temperature.
A piezoelectric current can also be generated when pressure is applied to a natural black tourmaline.
Metaphysical sources say that black tourmaline can defend against negative energies, and that it gives protection against negativity from other people as well as protection against negative energy from both electrical fields & magnetic fields.
Black tourmaline forms in many different geologic settings. It most often occurs in granite pegmatites. Tourmalines found in pegmatites are commonly black and they are associated with the feldspar varieties albite and microcline, along with quartz and muscovite. The light colored gem tourmalines are much more rare, usually occuring in pegmatite core zones with quartz (often as smoky quartz), clevelandite, muscovite (sometimes as the lithium rich variety lepidolite), and more rarely with amblygonite and spodumene (variety: kunzite).
Other geologic occurances for black tourmaline are: with quartz in hydrothermal veins where heated mineral bearing liquids or gases from deep igneous sources later cooled and crystallized along rock fractures, by boron metasomatism in contact and regionally metamorphosed rocks, and in granites due to late stage alteration of micas and feldspars by boron containing fluids.
Tourmaline
Tourmaline is the name of a group of closely related minerals all having essentially the same crystal structure but varying considerably in chemical composition and in some of their physical properties. Tourmaline is best described as a very complex aluminum borosilicate.
There are eleven distinct tourmaline mineral species based on chemical composition: buergerite, chromdravite, dravite, elbaite, feruvite, foitite, liddicoatite, olenite, povondraite, schorl and uvite.
Tourmaline occurs in all colors! Commonly used names have been given to tourmalines of specific colors or color combinations such as indicolite for blue tourmaline, rubellite tourmaline for pink to red shades, and watermelon tourmaline for tourmalines showing concentric color zoning with pink-red cores surrounded by green. Because laboratory analysis is necessary to determine the precise chemical composition of a tourmaline, the generally preferred nomenclature today for tourmalines that have not been lab analysed is simply to use the color of the tourmaline specimen as a prefix followed by tourmaline as in green tourmaline.
The color in tourmaline is due to the presence of metal ions (Fe, Mn, Cr, V, Ti and Cu) in the tourmaline crystal structure. The color we see in tourmalines is the result of light being absorbed by these ions or by interactions between these ions.
To see photos of natural tourmaline products, simply select one of the links below. These pages take longer to load as they display for all varieties of tourmaline.
Tourmaline Varieties and Products
BLUE TOURMALINE (INDICOLITE)
GREEN TOURMALINE (VERDELITE)
BI-COLOR and MULTI-COLOR TOURMALINE
PINK-PURPLE-RED TOURMALINE (RUBELLITE)
WATERMELON TOURMALINE
Tourmaline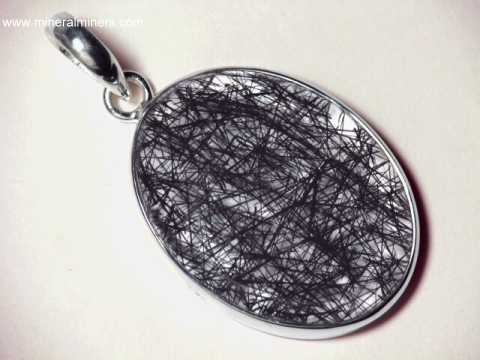 See also our page displaying handcrafted jewelry designs of natural black tourmaline in quartz jewelry.
We have been mining for tourmaline, aquamarine, citrine, kunzite, topaz and other gem materials for more than 25 years, and we have a very large variety of natural crystals available in many different minerals.
We have natural color crystals available in each of the tourmaline varieties including black tourmaline crystals, pink tourmaline crystals, blue tourmaline crystals, and green tourmaline crystals.
We also have some amazing multi-color tourmaline crystals!
See also our page displaying tourmaline crystals of all colors.
Black Tourmaline
Our black tourmalines are completely natural, and they were mined in Brazil. You may have noticed that we have naturally terminated black tourmaline crystals in all sizes from one inch long ranging up to more than 20 pounds each! These are all natural black tourmaline crystals. Here at mineralminers.com, we do not have any heated or treated black tourmaline crystals, each crystal is 100% natural! We specialize in superior quality mineral specimens of natural black tourmaline crystals in matrix in very large decorator mineral sizes, and also naturally terminated black tourmaline crystal specimens. We do have more black tourmaline products in stock, including some very large black tourmaline decorator specimens.
For additional information on natural black tourmaline and its physical properties, history, chemistry, and metaphysical uses be sure to see our tourmaline information page.
be sure to see our page displaying genuine black tourmaline jewelry.
To see photos of natural black tourmaline products, simply select one of the links below. To see photos of another mineral variety, select any item category link in our Mineral Inventory & Factsheet Index.

Natural Black Tourmaline
Black Tourmaline Items For Sale
Would you like us to inform you when we add more natural black tourmaline products on this page?
We do have more black tourmaline in stock at our mineral warehouses, so be sure to let us know if you have any natural black tourmaline special requests.
Please contact our webmaster or our 'site' geologist with any black tourmaline questions or comments.
---
Last Updated: September 30, 2019
© Copyright
1998-2019 Gem & Mineral Miners, Inc.
®
All Rights Reserved.