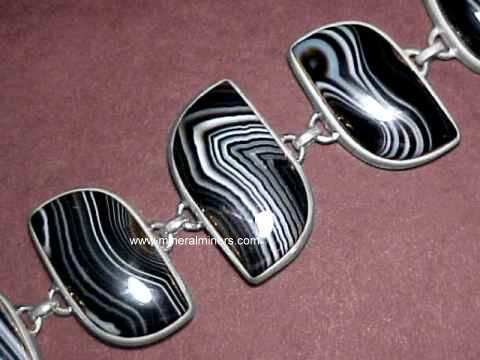 Agate Bracelets: genuine agate bracelet designs set with natural agate varieties including fire agate, banded agate bracelets, moss agate bracelets and lace agate bracelets
We specialize in natural agate gemstones set into handcrafted jewelry!
Natural Agate Products and other Genuine Gemstone Bracelets in our Online Store

---
The
mineralminers.com
®
Virtual Gallery - Collector Quality Agate Bracelets
At
Miners'
Prices!
TM
Agate Bracelets
Click on any natural agate bracelet image below to enlarge it.
---
Genuine Agate Bracelets, handcrafted in 925 sterling silver and set with natural color agate gemstones!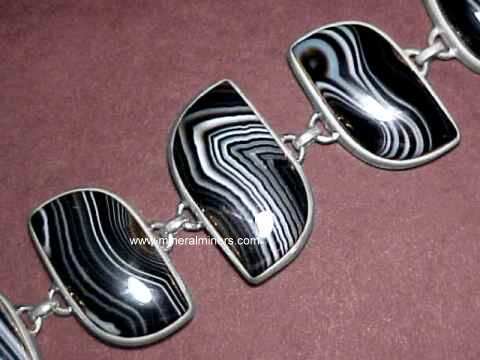 We have a large variety of superior quality agate jewelry designs available in pendants, rings, necklaces and bracelets.
Our natural agates are mined at locations around the world including Brazil, Montana (USA), India and Mexico.
There are dozens of named agate varieties which are usually based on distinctive patterns or colors.
See also our pages displaying Agate Spheres and Agate Geodes.
We also have more natural agate geodes and agate bookendsin stock.
We also have a page displaying only carnelian agate jewelry designs. These carnelian jewelry items are all handcrafted in pure .925 sterling silver.
To see more agate photos, just select another item category from the table below.
To see photos of another mineral variety, select any item category link in our Mineral Inventory & Factsheet Index.


---
Additional Agate Products For Sale in our Online Agate Store

---
See our page with links to genuine gemstone jewelry of all mineral varieties!
We offer a very large variety of natural gemstone jewelry in rings, pendants, necklaces, earrings and bracelets.
Would you like us to inform you when we add on this page more genuine lace agate bracelets, genuine fire agate jewelry, genuine moss agate bracelets, and genuine banded agate bracelets?
We have a large inventory of handcrafted natural agate bracelets in stock, so be sure to let us know if you have any special requests.
Genuine Gemstone Bracelets
We have been mining for aquamarine, citrine, topaz, garnet, tourmaline & other gems for more than 25 years.
We have a large variety of natural gemstone bracelets available with many different kinds of natural gemstones including lapis lazuli bracelets and moonstone bracelets.
We also have in stock natural color peridot bracelets with genuine peridot faceted gemstones, and we also have jade bracelets including natural cats eye jade bracelets in a variety of shapes and sizes!
We have a selection of genuine red garnet bracelets and other red garnet jewelry as well.
Be sure to see our hand-picked selection of suuperior quality opal bracelets with 100% natural opals mined in Ethiopia!
We have several different styles available of natural labradorite bracelets with beautiful irridescent colors, and we have a large selection of sizes available in natural moldavite bracelets.
See our natural gemstone bead bracelets page, and our natural jasper bracelets, our natural green aventurine bracelets & lapis lazuli bracelets.
We also have genuine larimar bracelets and genuine meteorite bracelets!
Our natural color aquamarine bracelets are available with many different aquamarine gemstone shapes and sizes to choose from.
We also have pages displaying natural color tourmaline bracelets, malachite bracelets and smoky quartz bracelets. We have a large selection as well of genuine sky blue topaz bracelets.
Be sure to see our natural gemstone jewelry pages displaying several different varieties of agate bracelets in pure sterling silver including genuine carnelian bracelets. We also have genuine moldavite bracelets and genuine fossil bracelets, all set with 100% natural gemstones. Be sure to also see our extra large size tanzanite bracelets set large rough chunks of genuine tanzanite.
Each of our bracelets is handcrafted in 925 sterling silver, and then set with genuine gemstones!
See our page with links to gemstone bracelets of all gem varieties! Our gemstone bead bracelet page displaying a variety of different natural gem materials handcrafted into beads and then strung in gemstone bead bracelets.
We also have separate pages displaying gemstone necklaces with Rounded Gemstone Bead Necklaces and with a very large selection of handcrafted superior quality Faceted Gemstone Bead Necklaces.
We have a large selection of natural opal bracelets in several different styles, each one set with beautiful opal gems showing amazing natural color play inside!
See our selection of genuine meteorite bracelets set with authentic Gibeon meteorites, Campo del Cielo meteorites & Sikhote Alin Meteorites as well as with sawn & etched meteorite slices!
Gemstone Bracelets
We have in stock genuine gemstone sterling silver bracelets in more than 50 different natural gem materials!
Our gemstone bracelets are available with all of the popular & traditional birthstones, and also with some other very beautiful and rare gemstone varieties!
Follow any linked image below to see a selection of superior quality handcrafted gemstone bracelets.


See more of our Genuine Gemstone Bracelets!
---
Agate Bracelets
Please contact our webmaster or our 'site' geologist with any questions or comments regarding our genuine agate bracelets.
This page displays handcrafted agate bracelet designs in sterling silver:
fire agate bracelets, banded agate bracelets, moss agate bracelets, and lace agate bracelets
---
Last Updated: November 10, 2019
© Copyright 1998-2019 Gem & Mineral Miners, Inc.® All Rights Reserved.