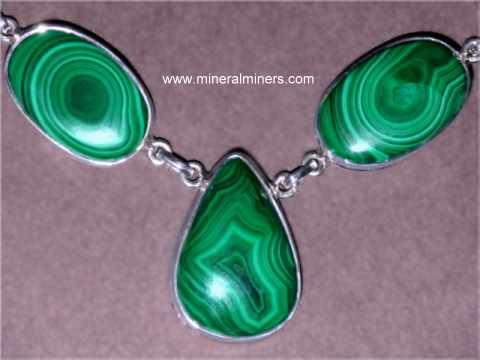 Genuine Malachite Sterling Silver Jewelry: Malachite Pendants, Rings, Malachite Necklaces and Malachite Bracelets
---
Our Malachite Jewelry is set in 925 Sterling Silver with cabochon gems of genuine malachite.

To see more natural malachite photos, just select any likned image shown below. To see photos of another mineral variety, select any item category link in our Mineral Inventory & Factsheet Index.


Genuine Malachite Jewelry and other Natural Malachite Products in our Online Store
Malachite Jewelry
Each of our malachite jewelry designs was handcrafted and set with genuine malachite cabochon gemstones that were mined in The Democratic Republic of the Congo. Here at mineralminers.com, we do not have any lab-created malachite! Natural malachite has layers which can yield amazingly beautiful patterns when cut and polished. Our malachite jewelry is set in pure 925 sterling silver. We have a genuine malachite jewelry available in handcrafted bracelets, necklaces, and pendants. Because of the amazing natural patterns within the malachite, each piece of our malachite jewelry is unique!
Be sure to also see also our pages displaying genuine malachite decorator specimens.
See our page with links to genuine gemstone jewelry of all mineral varieties!
See the links below for a selection of our genuine gemstone jewelry in rings, bracelets, necklaces and earrings.
Genuine Gemstone Jewelry
---
Malachite Jewelry
Would you like us to inform you when we add on this page more natural malachite jewelry pendants, rings, bracelets, and necklaces?
We have over 150 tons of gem & mineral items in stock at our mineral warehouses, so be sure to let us know if you have any natural malachite jewelry special requests. Please contact our webmaster or our 'site' geologist with any questions or comments regarding our genuine malachite jewelry.
Go up to the top of this page displaying genuine Malachite Jewelry:
malachite pendants, rings, malachite necklaces, and malachite bracelets
---
Last Updated: November 10, 2019
© Copyright 1998-2019 Gem & Mineral Miners, Inc.® All Rights Reserved.