Genuine Freshwater Pearl Jewelry & other Natural Pearl Jewelry Designs including pearl necklaces and pearl bracelets

---
---
Each of our Pearl Jewelry items & Pearl Necklaces has all genuine pearls!
See also our genuine gemstone bead necklaces page, and our genuine gemstone cocktail rings.
We have many other kinds of natural gemstone jewelry available.
See the links below for a selection of unique hand-crafted gemstone jewelry designs in pure 925 sterling silver and solid 14k gold.
Be sure to see our pages displaying genuine Larimar Jewelry, and our genuine Moonstone Jewelry.
We do have natural gemstone rings, necklaces & earrings available with many other types of genuine gem materials. Be sure to see our pages displaying fine peridot earrings and our other natural peridot jewelry designs including genuine peridot necklaces & peridot rings set with natural peridot gemstones mined in Burma and also mined on the San Carlos Indian Reservation in Arizona, USA. We have some very beautiful tanzanite necklaces & tanzanite rings in stock, and a large selection of shapes & sizes available in genuine tanzanite earrings. See also our pages displaying natural color change alexandrite necklaces & alexandrite rings, and don't miss our natural cats eye alexandrite earrings!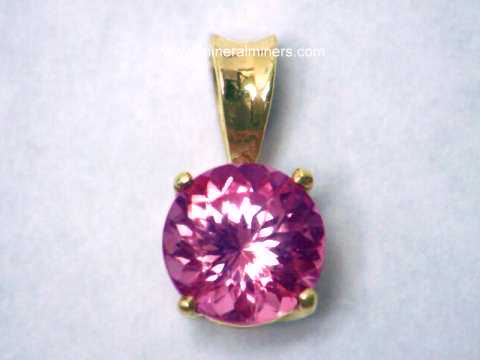 We have been mining for aquamarine, citrine, topaz and tourmaline in Brazil for more than 25 years, and we have a large variety of necklace styles and sizes available in natural tourmaline necklace designs including beautiful green tourmaline necklaces & green tourmaline rings.
In addition to our genuine freshwater pearl jewelry items displayed above, we also have genuine emerald jewelry, aquamarine jewelry, and our genuine opal jewelry designs with a variety of beautiful opal gems including natural Ethiopian Welo opal jewelry and natural Australian boulder opal jewelry. We have a variety of styles and sizes available of natural garnet jewelry items as well in several different rare garnet varieties including tsavorite and spessartite garnet.
See our selection of genuine handcrafted black onyx jewelry in pendants, bracelets and necklaces. We offer a very large selection of handcrafted natural color amethyst jewelry.
See our page with links to genuine gemstone jewelry of all mineral varieties!
See the following links for a unique selection of hand-crafted gemstone jewelry designs.
---
Pearl Jewelry
Would you like us to inform you when we add on this page more genuine pearl jewelry pendants, rings, bracelets and pearl necklaces?
We have additional inventory of handcrafted genuine pearl jewelry items in stock, so be sure to let us know if you have any special requests.
Please contact our webmaster or our 'site' geologist with any questions or comments.
---
Last Updated: June 7, 2020
© Copyright 1998-2020 Gem & Mineral Miners, Inc.® All Rights Reserved.