---
Our Genuine Sky Blue Topaz Earrings are handcrafted in pure 925 sterling silver
Each one of our blue topaz jewelry items is set with a genuine sky blue topaz gemstone!
These beautiful sky blue topaz gems are made from natural colorless topaz by passing electrons through the topaz (just like the electrons passing through the wiring of your home to make "electricity"). The resulting sky blue color in the topaz is permanent and will never fade with normal use. In genuine sky blue topaz, there is no dangerous residual radiation in the topaz like there is with nuclear reactor irradiation - we have no nuclear reactor irradiated topaz, period! Also, none of our topazes are diffusion treated, we do not have any diffusion treated gems!
Our beautiful sky blue topaz earring designs are available with faceted sky blue topaz gemstones.
We have a large selection of different cuts available in Blue Topaz gemstones. Our sky blue topaz gemstones have been hand-faceted into beautiful topaz gems in a variety of shapes and sizes including extra large giant size collector gems!
See our selection of Sky Blue Topaz Gemstones.
We also have a large variety of superior quality natural color imperial topaz jewelry & golden topaz jewelry designs available in pendants, earrings and necklaces.

See our Imperial Topaz Earrings and Golden Topaz Earrings which are set with natural color topaz gems mined at Ouro Preto, Brazil
Imperial Topaz Stud Earrings
Imperial Topaz Leverback Earrings
Golden Topaz Stud Earrings
Leverback Golden Topaz Earrings
See also our imperial topaz necklaces and imperial topaz pendants.
We also have Sky Blue Topaz Jewelry items available in rings, pendants, earrings, bracelets and necklaces.
We also have a large selection of natural color topaz items in stock including topaz crystals, topaz minerals specimens, and topaz gemstones.
Imperial Topaz Earrings
Each one of our imperial topaz earrings is set with untreated natural color imperial topaz gemstones that were mined at Ouro Preto, Brazil! Here at mineralminers.com, we do not have any lab-created topaz, and we do not have any diffusion treated topaz!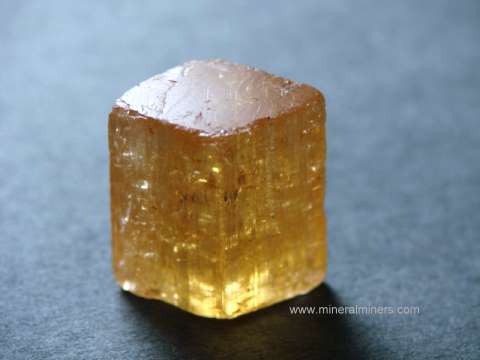 We specialize in genuine natural color imperial topaz earrings and natural color golden topaz earrings. Our golden topaz & imperial topaz earring designs are set in solid 14k gold stud earrings and leverback earrings. We have matching pairs of natural color golden-orange-pink topaz gems in a variety of shapes and sizes ready to be set into studs, dangle earrings and lever back topaz earrings.
For more information about natural topaz and its history, physical properties, chemistry, occurance, and metaphysical uses be sure to see our topaz information page.
See also our pages displaying genuine topaz gemstones and topaz crystals, genuine topaz necklaces, and our genuine tanzanite earrings.
To see more topaz photos, just select another item category from the table below. To see photos of another mineral variety, select any item category link in our Mineral Inventory & Factsheet Index.


Topaz Earrings
Would you like us to inform you when we add more blue topaz gemstone earrings, set as blue topaz stud earrings and also lever back blue topaz earrings?
We do have additional inventory of blue topaz earrings in stock, so be sure to let us know if you have any sky blue topaz earrings special requests.
Natural Gemstone Earrings
See also some of our other natural gemstone earring designs including genuine color change alexandrite earrings.
We have a large selection of natural opal earrings including some wonderful matched pairs of Ethiopian opal earrings! Be sure to also see our selection genuine lapis lazuli earrings - each one handcrafted from natural lapis lazuli rough mined high in the mountains of Afghanistan.
In addition to our genuine topaz earring designs displayed above, see also our genuine garnet earrings in all of the natural garnet varieties including the brilliant demantoid garnet earrings, the deep red garnet earrings, the rare hessonite garnet jewelry used in Vedic astrology, the beautiful orange mandarin garnet earrings, and our wonderful tsavorite green garnet earrings.
We have been mining for aquamarine, topaz, kunzite, tourmaline & other gems for more than 25 years, and we have been purchasing select quality natural color imperial topaz direct from the miners at Ouro Preto, Brazil since 1986 to make up genuine imperial topaz earrings & golden topaz earrings, and other handcrafted imperial topaz jewelry designs.
We do have additional inventory of genuine topaz gemstone matching pairs available, so be sure to let us know if you have any natural topaz earring requests.
We have a large variety of natural gemstone earrings available with many different kinds of natural gemstones. Our genuine amethyst earrings are set with natural color Brazilian amethysts. Our Ethiopian opal earrings are cut and polished from natural precious opals found in the Welo Province of Ethiopia. We also have genuine zircon earrings set with natural zircon gemstones mined in Tanzania, and we have natural color deep red garnet earrings set with fine quality deep red garnets mined in Mozambique. We also have genuine amethyst earrings with natural amethysts mined in Brazil, and we have genuine moonstone earrings! Our natural white sapphire earrings are set with brilliant white sapphires mined in Sri Lanka (Ceylon). We also have genuine yellow sapphire earrings and genuine pink sapphire earrings that were mined in Sri Lanka. Our genuine morganite earrings have natural salmon-pink morganite gemstones that were mined in Minas Gerais, Brazil.
Our natural color aquamarine earrings are available in both stud earrings and in leverbacks with many different aquamarine gemstone shapes and sizes to choose from.
Our selection of natural color imperial topaz earrings &amp golden topaz earrings is available in solid 14k white gold dangles & studs, and we also have natural imperial topaz earrings available in 14k yellow gold leverbacks. We have several pairs of beautiful kunzite earrings and iolite earrings available right now as well. Our natural color blue kyanite earrings are set with amazing deep blue kyanite gems mined high in the mountains of Nepal.
We have a very large variety of natural color pink tourmaline jewelry items in stock, including handcrafted pink tourmaline earrings in both studs and leverbacks with a wide assortment of tourmaline gemstone sizes & shapes.
See also our natural color sunset tourmaline jewelry with beautiful peach-pink hues, and our natural color green tourmaline earrings in all shades from pastel mint green to very rich dark greens!
See the links below for a selection of our genuine gemstone earrings in studs, hoops, and leverbacks.
Please contact our webmaster, regarding blue topaz earrings or our 'site' geologist with any questions or comments regarding our sky blue topaz earrings.
---
Last Updated: Decemebr 11, 2017
© Copyright
1998-2017 Gem & Mineral Miners, Inc.
®
All Rights Reserved.