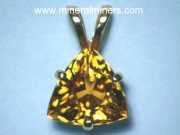 Heliodor Jewelry: Pendants and Earrings (natural color golden beryl jewelry)
Additional
Heliodor
(
golden beryl
) Items in our Virtual Gallery
---
The
mineralminers.com
®
Virtual Gallery - Collector Quality Heliodor Jewelry
At
Miners'
Prices!
TM
Heliodor Jewelry Pendants and Earrings
(natural color golden yellow beryl jewelry)
Try our
Heliodor Jewelry
Satisfaction Guarantee
- compare our prices and our superior quality.
Click on any natural golden beryl jewelry image below to enlarge it.
---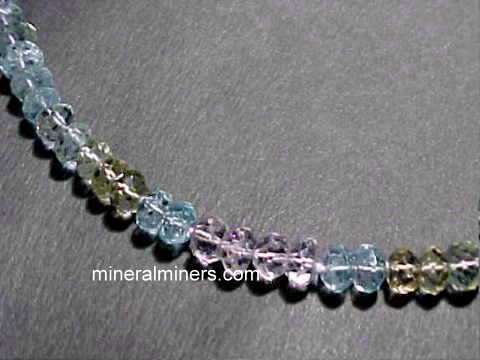 Item
: aquj112x_aquamarine-necklace
this 18 inch multi-color aquamarine necklace is available with two bead diameter sizes (please see below)

This multi-color beryl necklace was made from all
natural color
beryls
! There actually are several beryl varieties present in this necklace:
aquamarine
(blue-green),
morganite
(rose-pink),
goshenite
(colorless), and
heliodor
(golden-yellow). Each of the beads was hand-ground & faceted, and then drilled & strung into this genuine multi-color faceted beryl necklace and then fit with a sterling silver clasp. The photo at left shows a close-up view. See also a full view photo of this natural
aquamarine necklace
. The transparent beads are lightly included to eye-clean, and we have this beautiful aquamarine necklace available in two bead diameter sizes:
Item aquj112xi
has beads that measure 4.5mm in diameter, with 64 carats total weight of natural multi-color aquamarine beads
Item aquj112ae
has large size faceted beads that are gradational in size ranging from 5mm at the clasp up to 7.5mm at the largest diameter, and then back down to 5mm again, with 120 carats total weight of natural multi-color aquamarine faceted beads
(please see the special discounted prices shown below).
---
This is the end of our Heliodor Jewelry page (natural color golden yellow beryl jewelry).
See also our jewelry selection for other natural beryl varieties: genuine aquamarine jewelry designs including aquamarine earrings, genuine morganite jewelry, and also our genuine emerald jewelry.
See our genuine golden beryl crystals and heliodor in matrix mineral specimens.
We have more heliodot jewelry in stock as well.
To see more heliodor or golden beryl photos, just select another item category from the table below.
To see photos of another mineral variety, select any item category link in our Mineral Inventory & Factsheet Index.


Would you like us to inform you when we add on this page more natural color heliodor earrings and jewelry pendants & natural color golden beryl 14k gold earrings and pendants?
We do have additional inventory of natural color golden beryl and heliodor earrings and pendants in stock, so be sure to let us know if you have any natural heliodor special requests. Please contact our webmaster or our 'site' geologist with any questions or comments.
Go up to the
top
of this page displaying genuine heliodor (golden beryl) earrings and jewelry pendants
---
Last Updated: September 1, 2017
© Copyright 1998-2017 Gem & Mineral Miners, Inc.® All Rights Reserved.