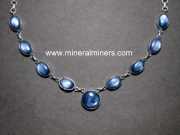 Kyanite Necklaces: natural color blue kyanite bead necklaces &
Natural deep blue kyanite pendants in 14k gold
Natural Color Gemstone
Necklaces
& other Genuine
Blue Kyanite
Items in our On-line Store
---
The
mineralminers.com
®
Virtual Gallery - Collector Quality Natural
Blue Kyanite Necklaces
At
Miners'
Prices!
TM
Kyanite Necklaces
Natural color blue kyanite bead necklaces & cabochon blue kyanite necklaces
Try our Natural Blue
Kyanite Necklaces
Satisfaction Guarantee
- compare our
kyanite
prices and our superior quality.
Click on any of our genuine blue kyanite necklace images below to enlarge it.
---
---
---
---
---
---
---
---
---
Item
: kyaj119x_blue-kyanite-necklace
This genuine blue kyanite necklace is available in 17.5 and 18 inch lengths (please see below)
These blue kyanite beads were handcrafted from natural kyanite mined in Nepal

This is a 100% natural blue kyanite necklace with smooth polished beads (not faceted). The lightly included blue kyanite beads have superior color, and they are transparent! These beautiful blue kyanites have not been heated or treated in any way. Natural kyanite pieces with rich blue natural color were hand-ground and polished into large flat oval beads which were then drilled & strung in this beautiful blue kyanite necklace with a sterling silver clasp. There are over 50
natural
color blue kyanite beads in each of these wonderful kyanite necklaces! We have this blue kyanite bead necklace available in two bead sizes:
Item kyaj119pa
: Natural blue kyanite necklace measuring 17.5 inches long with 67 carats of oval beads that are gradational in size ranging from 5mm long at the clasp up to 9mm long at the center of the necklace, and then back down to 5mm again
Item kyaj119g
: Natural blue kyanite necklace measuring 18 inches long with 102 carats of gradational size beads ranging from 6mm long at the clasp up to 12mm long at the center, and then back down to 6mm long again.
Please see below for our
special offer
prices on these 100% natural blue kyanite necklaces.
---
---
---
---
---
---
---
---
---
---
---
---
---
---
---
---
---
---
---
Our Blue Kyanite Necklaces all have natural color blue kyanites!
Blue Kyanite Necklaces:
Blue Kyanite Bead Necklaces in Sterling Silver
Blue Kyanite Gemstone Pendants in 14k Gold
Cabochon Blue Kyanite Sterling Silver Necklaces
Each of our Kyanite necklaces is set with natural untreated kyanite gemstones! At this time, we have natural blue kyanite necklaces available in 14k gold pendants with faceted kyanite gems, blue kyanite gemstone bead necklaces, and also with cabochon gems of natural untreated blue kyanite! We also have polished blue kyanite crystals set in 925 sterling silver blue kyanite pendants with matching blue kyanite sterling silver earrings. We also have a selection of beautiful blue kyanite bead necklace designs.
See also our page displaying natural blue kyanite gemstones, as well as our kyanite crystals.
Natural Gemstone Necklaces

We have a large variety of natural gemstone necklaces available with many different kinds of natural gemstones. Our natural color aquamarine necklaces are available with many different aquamarine gemstone shapes and sizes to choose from. We also have genuine amethyst necklaces with natural amethysts mined in Brazil, and genuine zircon necklaces set with natural zircon gemstones mined in Tanzania. Be sure to see our beautiful deep red garnet necklaces. Our Welo opal necklaces are cut and polished from the recently discovered fine opal from Welo, Ethiopia, and our natural moonstone necklaces are set with genuine moonstones mined in India!

Our selection of natural color imperial topaz necklaces &amp golden topaz necklaces is available in 14k white gold and 14k yellow gold settings, and we also have natural imperial topaz necklaces available in 14k yellow gold. We have several unique and beautiful kunzite necklaces and iolite necklaces available right now as well.

We also have in stock natural color change alexandrite jewelry with real alexandrite necklaces, and we have natural color genuine jade necklaces including natural cats eye jade necklaces! Be sure to see our natural purple charoite necklaces. See also our selection of genuine ruby necklaces.

See our natural star sapphire necklaces, our natural jasper necklaces, and our natural green aventurine necklaces. We have a large selection of genuine moldavite necklaces & lapis lazuli necklaces, as well as genuine garnet necklaces including hessonite garnet necklaces used in Vedic astrology, the wonderful orange mandarin garnet necklaces, and our rare green tsavorite garnet necklaces.

We also have genuine larimar necklaces and genuine meteorite necklaces!

See our pages with links to natural gemstone necklaces & jewelry of all gem varieties!

See the links below for a selection of superior quality genuine gemstone necklaces.






---
Be sure to see our pages displaying natural kyanite gemstones & kyanite earrings.
Kyanite Necklaces
Each one of our kyanite gemstone necklaces is completely natural. Here at mineralminers.com, we do not have any heated or treated kyanite gems, each kyanite gemstone is 100% natural! We specialize in superior quality natural kyanite necklaces. We do have more kyanite necklace styles in stock.
See also our page displaying handcrafted blue kyanite eggs, and our genuine blue kyanite earrings & other kyanite jewelry items.
To see more Kyanite photos, just select another item category from the table below.
To see photos of another mineral variety, select any item category link in our Mineral Inventory & Factsheet Index.


Kyanite Information
Information about genuine kyanite and its history, physical properties, chemistry, occurance, and metaphysical uses is displayed on our kyanite information page.
Please see the links below for natural kyanite products including kyanite mineral specimens and kyanite jewelry!
See also our page displaying genuine kyanite gems.
To see photos of another mineral variety, select any item category link in our Mineral Inventory & Factsheet Index.


Kyanite Necklaces and other Genuine Blue Kyanite Products in our Online Store
Kyanite Necklaces
Would you like us to inform you when we add more natural blue kyanite necklaces on this page?
We do have additional inventory of natural blue kyanite necklaces in stock including blue kyanite bead necklaces, so be sure to let us know if you have any kyanite necklace special requests.
Please contact our webmaster or our 'site' geologist with any questions or comments.
---
Last Updated: May 14th, 2019
© Copyright 1998-2019 Gem & Mineral Miners, Inc.® All Rights Reserved.