---
Genuine champagne moonstone jewelry, blue flash moonstone jewelry, catseye moonstone jewelry, and rainbow moonstone jewelry, each one set into a unique hand-crafted design of superior quality.
Do come back and browse often!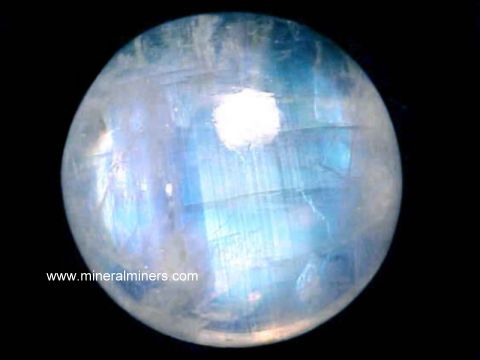 Moonstone Jewelry
Every one of our moonstone jewelry items is set with untreated natural moonstone gemstones! Most of our moonstone jewelry designs are available with cabochon gemstones, and we do have a few moonstone jewelry items with faceted moonstone gems.
Each of the gems in our moonstone jewelry designs was hand ground and polished from natural moonstone rough that was mined in India or Africa. We have a large selection of beautiful moonstone jewelry designs all set in pure 925 sterling silver in a variety of sizes and shapes in moonstone rings, moonstone pendants, moonstone bracelets, and moonstone necklaces.
We have a webpage displaying handcrafted moonstone bracelets, each set in pure sterling silver.
See also our natural gemstone jewelry pages displaying charoite jewelry, our larimar jewelry, and our prehnite jewelry. Be sure to see our jewelry pages for the natural feldspar varieties labradorite jewelry and sunstone jewelry.
To see more moonstone photos, just select another item category from the table below.


To see photos of another mineral variety, select any item category link in our Mineral Inventory & Factsheet Index.
---
Moonstone Jewelry
Would you like us to
inform you
when we add on this page more genuine rainbow moonstone jewelry, champagne moonstone pendants, and blue-flash moonstone jewelry designs set into pendants and blue moonstone rings?
We do have a large inventory of all natural moonstone jewelry items
in stock
including genuine rainbow moonstone necklaces, bracelets, rings and pendants, so be sure to let us know if you have any
moonstone jewelry special requests
. Please contact our
webmaster, regarding rainbow moonstone jewelry
or our
'site' geologist
with any questions or comments.
Go up to the top of this natural rainbow moonstone jewelry & blue flash moonstone jewelry page displaying:
Genuine moonstone pendants, moonstone rings, moonstone necklaces, and moonstone bracelets
Moonstone Jewelry - end of page
---
Last Updated: April 3rd, 2018
© Copyright
1998, 1999, 2000, 2001, 2002, 2003, 2004, 2005, 2006, 2007, 2008, 2009, 2010, 2011, 2012, 2013, 2014, 2015, 2016, 2017, 2018 Gem & Mineral Miners, Inc.
®
All Rights Reserved.